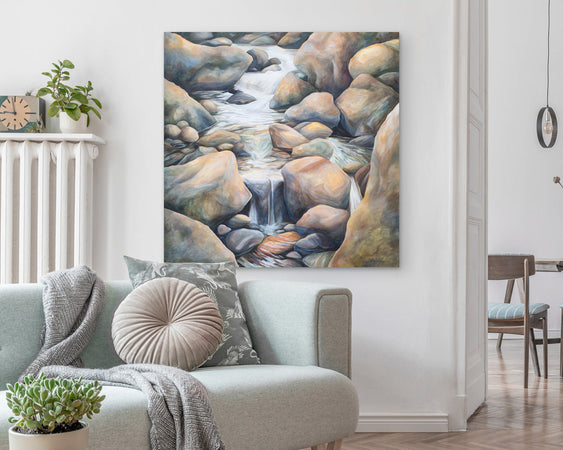 Print Collection
Prints of my paintings are available as prints on paper or canvas.
Paper:  These paintings are printed on a beautiful heavy Fine Art Cotton Rag paper.
They are printed with a border to fit into standard frame sizes. The sizes listed are the suggested frame size. (One could matte and frame up to larger sizes if desired.) The paper has a nice subtle texture and you can clearly see the signature in pencil.
Printed in my studio, using archival quality materials. Each signed print comes with a Certificate of Authenticity. And should be framed behind glass.
Smaller sizes come flat, larger sizes ship in a tube.
Canvas: Many of my paintings are available printed on canvas.  They are stretched over a 1.75" deep frame with black or mirrored image around the outside edge. They come ready to hang on the wall. They are printed in Canada and I can ship them easily throughout North America. 
***Canvas prints ordered through my website are outsourced with a Canadian print company that I have been working with for 8+ years.***
*New* I am also making Canvas Prints here in my studio. However shipping is much more expensive and needs to be calculated on a case by case basis. They are available direct from my gallery on Long Harbour road and at the market. I have a selection in stock and can make to order with a couple weeks notice. If you're local, or visiting Saltspring and would like to pick-up your canvas print, or if you prefer one that I hand-made and are willing to pay more for shipping, please reach out and we can make arrangements.
If you have any questions at all please feel free to contact me before placing your order.